Line It Up Edge Corrector
Customer Reviews
Customer Reviews
Write a Review
Ask a Question
10/31/2023
Audreanna W.

United States
Removes great but leaves a mess
This stuff is amazing at getting rid of that unwanted makeup! I've had situations we're I'm taking my makeup off for the day, and after scrubbing, scrubbing, and scrubbing with no success, I'll reach for this bad boy and bam! No more scrubbing. Now, that all being said, as other people have pointed out it holds onto the color of whatever product you wipe it off with. And easily at that. One swipe, and by the next one your leaving smudges behind. Easy to clean smudges, but smudges. So, yea, I'm no longer scrubbing, but I do have makeup smeared all over my face. Easy to clean makeup, but still quite a bit of makeup. At the beginning I tried wiping the dirty tip on a papertowel, and that helped clear out some of the color, but after a while this little trick no longer works. Plus, your wasting product. So, in the end I will say that I love this product. I'm new to makeup still, and this product has saved the skin around my eyeballs many times in the past. You don't have to waist an entire wipe that may not even work, or chance getting remover on unessesary parts of the makeup. I want this product to stay forever. This will always be a necessity in my makeup bag. Right now I'm debating on getting another one now, or later. Maybe get a few to save on shipping later. But, the fact it leaves messes and smudges behind kind of goes against they're eyeliner gone in one swipe marketing, so that's why I sadly had to give it three stars. I hope they find a way to keep the idea they got going, but maybe perfect it with a washing solution for the tip, or maybe just giving more applicators with your pen.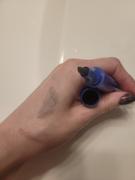 08/30/2023
Marie A.

United States
Nice Product But……
It works well for corrections but it holds on to the color you remove.
09/11/2023
Treslúce Beauty
Thank you for taking the time to review your Tresluce Beauty purchase! Please check your inbox for a follow-up message from us.
03/20/2023
Anonymous

United States
Love this product!
I love that it gives such clean lines, it's great as a guideline for my winged eyeliner. Very easy to use as well. I will definitely buy it again.
12/24/2022
Linda L.

United States
Line it up edge corrector
My daughter's amazed how great it works
11/15/2022
Anonymous

United States
Is perfect!
This really works when trying to correct liner or eyeshadow!
What Makes Us Special…

Cruelty Free

Our products are PETA Beauty Without Bunnies approved.

Latinx Artist

We empower Latinx artists by commissioning them for packaging design collaborations.

Vegan Friendly

Our brushes are 100% vegan, and our formulas are vegan-friendly.